Hi guys! Long time no post! I just caught up on this thread, but there is so much new stuff around here, I wonder If I will ever get on top of things again!
Some of you may remember that I decided to take a break from my participation in all online fora around December last year due to my workload. Well, it didn't slow down over the New Year as I expected (which is good for a freelancer!) so I decided to continue to stay out of the fray. Now I find myself awake early with the kids this beautiful 1st of May holiday and thought I would pop in to say hello.
I shaved off my winter beard around the beginning of march. Although my son was disappointed, it was nice to bring the stache back in focus. And to be honest, I really do enjoy shaving with my great-grandfather's old Gillette DE razor!
Here is a picture of my moustache in March, right after I shaved off my beard (I have let my head-hair grow out to about an inch and a half since then):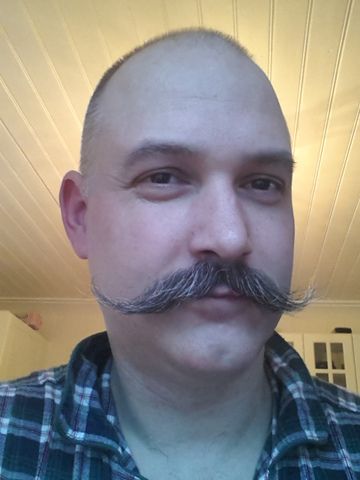 I have trimmed a couple of the super-long hairs at the tips since then, but nothing major. That said, I am considering something more drastic.
Back when I started growing out my moustache in 2010, I told my wife that you need about 3-5 years to see what you are good for. She has not always been positive, but always accepting. Recently, however, she started lamenting about never seeing my beautiful mouth again. She told me that I had the lips of a Greek god and, while I am not a vain man, it was hard not to be affected by that comment! She said that she had nothing against me having the moustache but wondered if I could just take a break from time to time like I have always done with my beard.
It has been quite some time since she has pushed for me to prune back my moustache and this time it really got me thinking. It seems to me that, aside from some of the super-long hairs that occasionally thrust out from the sides, most of my moustache reached terminal length after about 8-9 months. So, even if I do trim or shave, it won't take me that long to get back the moustache I have now, after nearly 4 years.
I know this does not sound like happy news for handlebar enthusiasts and I have no immediate plans. I'm just thinking... And I always wanted to try a moustache like Vincent Price anyway...
...and then I will still have a moustache and my wife will be able to see my lips. Like long-gone member, Lost Soul, I too am starting to feel
the call of the pencil
...